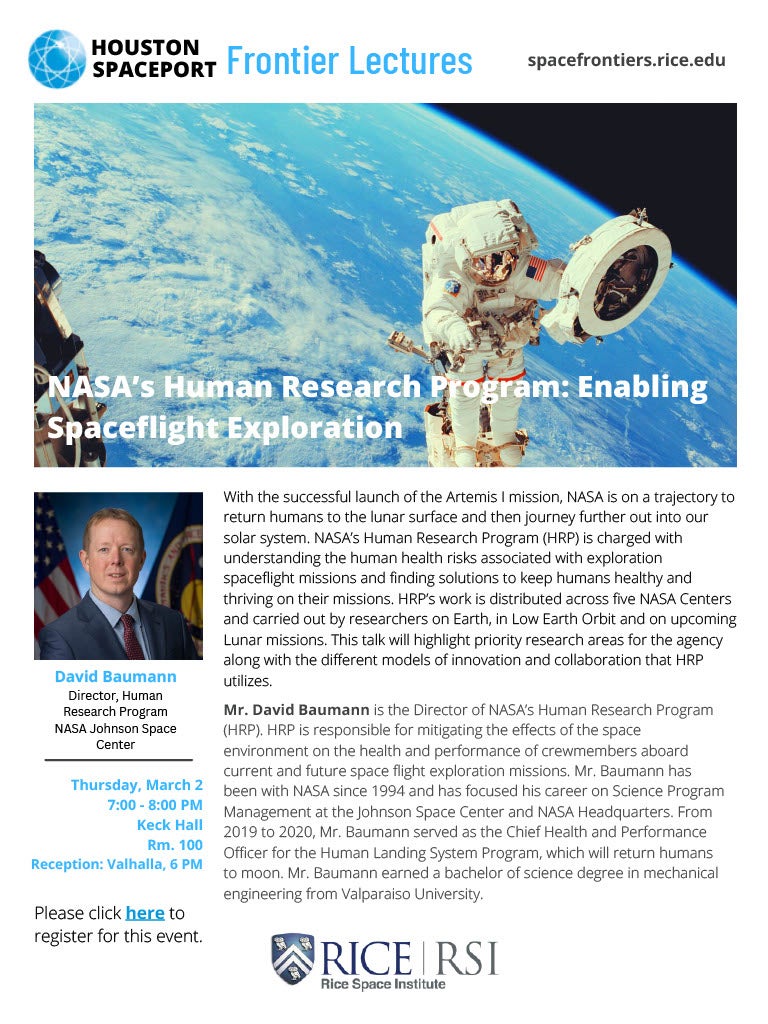 Event Date:
Thursday, March 2nd
7:00pm - 8:00pm (CST)
Keck Hall Rm. 100
Reception: Valhalla, 6 PM
Link To Lecture:
Speaker:
With the successful launch of the Artemis I mission, NASA is on a trajectory to return humans to the lunar surface and then journey further out into our solar system. NASA's Human Research Program (HRP) is charged with understanding the human health risks associated with exploration spaceflight missions and finding solutions to keep humans healthy and thriving on their missions. HRP's work is distributed across five NASA Centers and carried out by researchers on Earth, in Low Earth Orbit and on upcoming Lunar missions. This talk will highlight priority research areas for the agency along with the different models of innovation and collaboration that HRP utilizes.
Mr. David Baumann is the Director of NASA's Human Research Program (HRP). HRP is responsible for mitigating the effects of the space environment on the health and performance of crewmembers aboard current and future space flight exploration missions. Mr. Baumann has been with NASA since 1994 and has focused his career on Science Program Management at the Johnson Space Center and NASA Headquarters. From 2019 to 2020, Mr. Baumann served as the Chief Health and Performance
Officer for the Human Landing System Program, which will return humans to moon. Mr. Baumann earned a bachelor of science degree in mechanical engineering from Valparaiso University.