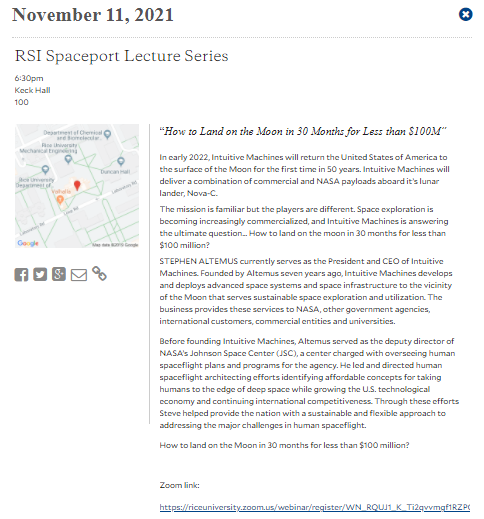 Event Date:
Thursday, November 11th
6:30 pm (CST)
Keck Hall Room 100
Speaker:
Speaker: Stephen Altemus
STEPHEN ALTEMUS currently serves as the President and CEO of Intuitive Machines. Founded by Altemus seven years ago, Intuitive Machines develops and deploys advanced space systems and space infrastructure to the vicinity of the Moon that serves sustainable space exploration and utilization. The business provides these services to NASA, other government agencies, international customers, commercial entities and universities.
Before founding Intuitive Machines, Altemus served as the deputy director of NASA's Johnson Space Center (JSC), a center charged with overseeing human spaceflight plans and programs for the agency. He led and directed human spaceflight architecting efforts identifying affordable concepts for taking humans to the edge of deep space while growing the U.S. technological economy and continuing international competitiveness. Through these efforts Steve helped provide the nation with a sustainable and flexible approach to addressing the major challenges in human spaceflight.